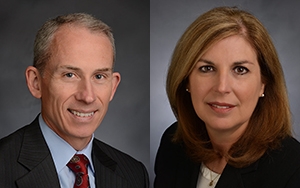 Paul Condrin | Kathleen Conlin
At Liberty Mutual Insurance, diversity and inclusion (D&I) continues to be a key priority. Diversity is what makes each of us unique. It is the combination of the visible and invisible differences – our backgrounds, personalities, life experiences and beliefs – that shape our perspectives and approaches. We believe that by appreciating and leveraging the unique aspects that every person at Liberty Mutual brings to the table, we have the opportunity to create an environment of trust and respect, therefore fostering innovation, productivity, and success. Our D&I efforts enable us to be an employer of choice for top talent to drive our business forward.
We are proud to partner with our fellow industry leaders through the Business Insurance Diversity & Inclusion Institute. By helping to advance diversity and inclusion by attracting and retaining top talent across the commercial insurance industry, we ensure it remains competitive in this growing and global marketplace.